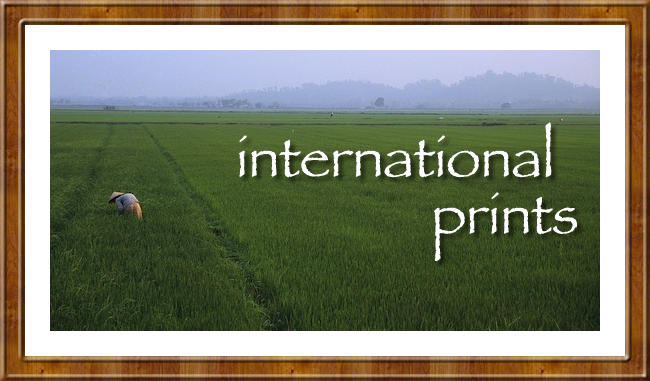 In my brief affair with photography, I have taken pictures in over 30 countries. Some of these places acquiesce to the camera in extraordinary ways, communicating with light and colors more than can be interpreted.
Others are more miserly with their beauty, reguiring a patience and skill sometimes beyond mine.
The lion's share of these images were taken during a seventeen month journey around the world. I carried a backpack with t-shirts, underwear, notebooks, a camp stove, and sundry items for survival, and a frontpack with a Minolta SLR, 3 lenses and 100 rolls of Velvia; around 70 pounds of gear over 5 continents.
Because I was shooting film, I never saw a single image I took until I got home, so my motivation would wane with my health or the weather, contributing to gaps in my pictorial timeline. Some particular image through my viewfinder would then excite me and get me back on track. On my return home I had over 4000 images to wade through, bent over a color-corrected light table for several weeks.
The pictures on this site represent a cross section of what I have taken, not necessarily a "best of". I would rather present stories than images; sentences rather than words. I would like to present a holistic vision, but realistically a country or a continent can never be fully captured through the lens of a Mzungu, but we can always try.
Since returning from my adventures, I have embarked on another. Last winter, kelli and I took a trip to central America. It was her first visit, and my first in quite a while. I had missed traveling, though I must say I did not miss the bad meals and bug-ridden beds.
This was my first journey with a digital camera. While it presented logistical problems with batteries and storage and such, it was a great experience. Children and adults alike love seeing their pictures instantly, and warm more easily as a result. Instant feedback can help to recapture those moments that will never be again.
Perhaps next summer, we will embark on our next journey. I would love to return to South East Asia, and Kelli seems keen to go, but my friend Vanesa in Argentina wants us to visit and I have never been to South America...
-Wes